Brave the Book - A PnP Bookmark Game
Turn any big book into a small solo dungeon-delving game!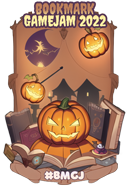 Comments
Log in with itch.io to leave a comment.
Such a cool concept! Love this one :D
Love this! I can't wait to try it out~
Hey Gregg, just want to thank you for submitting this game to Bookmark Microgame-Jam!
Your game looks great and is a really great use of the entire book!
Well done :D